Film Review: Girlfight
Elaine on a boxing film that packs a different sort of punch
"Girlfight" tells the story of an angry young woman taking control. Teenager Diana (Michelle Rodriguez) lives in a cramped Brooklyn apartment with her father Sandro (Paul Calderon) and younger brother Tiny (Ray Santiago). Her mother is dead and she has only one friend, timid schoolmate Marisole (Elisa Bocanegra). Diana's eager affinity with violence has her blacklisted by school staff but threats of expulsion fall on deaf and defiant ears.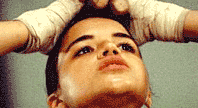 If everybody walked on eggshells around her, Diana might let things go. When cruel high school bitchiness wounds her best friend, however, Diana's fierce loyalty pitches her into overdrive. Besides, she's just too good at fighting to let that one outlet go. At home, her volatile relationship with Sandro teeters dangerously on the brink of all-out warfare and Tiny, lumbered with the role of peacekeeper, looks suitably stressed-out.
In the past, boxing has served films well as salvation for the disaffected young male. Slotting a girl into the role of "underdog-come-good" proves a smooth transition here and writer/director Karyn Kusama barely tampers with the narrative conventions of this well-worn genre. At the local boxing club, Diana relentlessly strives to prove herself. Her determination and obvious talent eventually wins over dubious trainer Hector (Jaime Tirelli) and it soon emerges that she has very real competitive potential.
Where Kusama's story necessarily differs, however, is in her treatment of Diana's personal struggle with the social constraints threatening to stifle her. She uses "Girlfight" to call into question the wisdom and validity of modern-day gender stereotyping. The muscle-bound and androgynously clad Diana does not consciously reject all of the superficial markers of femininity, from crossed legs and make-up to flirtation and domesticity. She is just different. Kusama flatly refuses to entertain any reference to the stereotypically "butch" elements inherent in Diana's identity. Her character is, instead, realised within an almost exclusively male domain.
In it there is her father, whose relentless machismo blinds him to the reality of who his daughter actually is. While Diana's irreconcilable differences with Sandro hurtle towards a violent crescendo, Hector replaces him as parental figure and mentor. Diana also embarks on a tentative romance with fellow boxer Adrian (Santiago Douglas). He is at once intrigued and threatened by his feisty love interest. Her dissimilarity from the pretty, feminine girls to whom he is accustomed means that the film is punctuated by stop-start moments of romantic indecision.
Tiny, meanwhile, offsets his sister's aggression with a gentleness that defies his father's hackneyed sense of masculinity. While Diana relishes the physicality of boxing, Tiny prefers art and hates the boxing lessons to which his father subjects him. Kusama seems content to keep her study of gender identity, for the most part, on this simplified level of girl's doing boys stuff and vice versa. Her interest lies whole-heartedly with the extreme, represented by Michelle Rodriguez' Diana.
Diana hits from the heart. She is closer to her emotions than most "well balanced" people could hope to be and this gives the film a reckless and liberating quality. There is no doubt that "Girlfight" is at its best when showcasing newcomer Rodriguez' considerable talent. Supporting characters can do little more than support as she burns up and takes over the screen with a dynamism that ably sees the film through its weaker moments. And there are weak moments. "Girlfight" at times loses pace and certain plot elements are left to wither away, untended. On the whole, however, it entertains and does much to support its director's conviction that we should see far more "strong, difficult females in the primary role".
Elaine O'Regan