Film Review: Celebrity
With the peculiar family shenanigans in his personal life many might have expected some disruption of Woody Allen's artistic output. On the contrary, it appears he is thriving creatively in many respects. Last year the modestly ingenious 'Deconstructing Harry' had his faithful legions spouting superlatives. This year the Woody Allen paranoia fest comes in the shape of an analysis of fame, its discontents and how we mere mortals, so distant from it, still strive to shape ourselves on the famous and their whims. The film is Celebrity and, although he doesn't appear in the film, Allen's presence permeates every frame.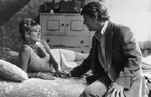 Shot entirely in black and white Celebrity chronicles the emotional descent of recently divorced Lee Simon (Kenneth Branagh), a failed scriptwriter turned magazine reporter. Simon's work has allowed him to place both his feet just inside the fringes of the celebrated where we see him, with evident desperation, tragically attempt to wangle himself closer to the impenetrable centre of their elite world. Shallow encounters with immaculate beauty vixens and hedonistic brat pack actors (one such played by a Leonardo DiCaprio with an intriguing conviction) leave him feeling insecure and hollow. Having failed to install himself among the upper echelons of the famous, his longing for acceptance directs him into the arms of a struggling young actress (played by Winona Ryder, ridiculously beautiful as ever). Soon enough, with Allenesque tragedy, the relationship begins to falter on the rocks of Simon's jealousy.
In parallel runs the ascent of his estranged wife Robin Simon (Judy Davis) from self-conscious neurotic woman of low personal esteem to happiness and relative fulfilment as a minor television celebrity. Her change of fortunes begins when Tony Gardella (Joe Mantenga), a television producer, stumbles on her path in the waiting room of a plastic surgeon's clinic. Soon he is offering her some TV work and begins to charm the dispirited woman towards a new emotional height.
Allen has outdone himself with a brilliantly funny script, peppered with terrific one-liners, that also manages to underpin the fickleness of celebrity and make a subliminal mockery of the 'Hello' generation's obsession with it. However, it is unfortunate that, as director, Allen did see any need to tone down the undiluted neurosis of Judy Davis interpretation of Robin Simon's character. The excesses of the performance seem to defeat any original purpose. Allen seems to have ignored the fact that, having an intelligent audience, he could have got the message across more effectively with some prudent use of subtlety.
Allen's age may not have hindered his filial philandering but no dissuasion was necessary to stop the 64 year-old from playing the 30-something-approaching 40 lead role. Nonetheless, as director, he pursued the questionable policy of, having hired Branagh to play Simon, teasing from him a performance which sees the Belfast man play, well, Woody Allen playing the part. The result, a brilliant and convincing performance from Branagh, perfectly captures Allen's well-known intonation, stammer, characteristic high pitch and frantic hand movements. The result though is not just irritating but also quite deflating. It would have been far more interesting to let an actor of such calibre interpret the role for himself. Instead audiences have to tolerate two hours needless interpretation of a personality everybody is already too familiar with.
Indeed, if for one moment a simplistic look is taken at Celebrity, it can be contended that the whole film is something we have already seen from Allen, but this time with a slightly different spin. With Celebrity he presents a film, set in New York, with a principle male character of questionable emotional maturity, an estranged wife who also doubles as an unapologetic neurotic constantly seeking psychological advice and support, brought together in a sharp, intelligent script that harbours pre-occupations with sex. Sound familiar? There is no doubting considerable Allen's ability to put together two stimulating hours of cinema around such subject matter. He proved his ability a long time ago to his peers and audiences. Sure, even in 1979 he was touching on all this with Manhattan. So why does an artist of Allen's talents not seek the challenge of creating something that traces other aspects of modern society besides dysfunctional relationships, human neurosis and obsession with sex? Has creative complacency set in? Or is there a lack of cinematic courage and daring that sees Allen stick to a proven formula that keeps the critics and audiences happy?
Such esthetical considerations aside, this is nonetheless tour-de-force Woody Allen that should not be missed by those who have the palate for Allen's particular, but endearing, idiosyncrasies.
Agree / disagree with the review? Why not leave a message for all visitors to the site on the CLUAS Discussion Board?
Celebrity opens in Ireland on June 18th 1999