This article was first published on CLUAS in Sept 2000
Life & How to Live it
An interview with REM's manager Bertis Downs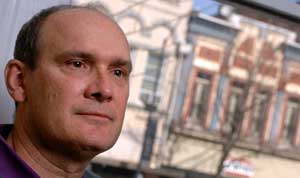 They crawled from the South, blitzkrieged their way through Europe (wooing 47,000 revellers in Dublin along the way in Lansdowne Road - check the original setlist from the gig right here on CLUAS) before a grand finale in the States. REM's 1999 Summer tour (their first since the departure of drummer Bill Berry) saw them perform with as much vigour and intensity as they did during the Green World Tour of 1988. However while Peter Buck, Mike Mills and Michael Stipe may have been busy paying homage to Andy Kaufmann, performing goofy Elvis impressions, taking helicopter rides with Courtney Love (Michael Stipe), being kissed (intimately) on stage by Cerys Matthews (Mike Mills) and of course blistering through a set from "Lotus" to "It's the End of the World as We Know it", behind the scenes one person keeping things in check was band manager Bertis Downs. On a recent telephone conversation with Bertis, The Apologist learnt a few backroom secrets about the recent tour.
CLUAS: Unlike the Monster Tour in 1995 which was heavily hit with bad luck concerning the health of the band members and subsequently the cancellation of several European dates, REM could be grateful that their most recent outing went uninterrupted.
Bertis Downs: Firstly the trials and tribulations of managing the band were not nearly as difficult as managing them during the 1995 tour??? (in 1995) we had three different surgeries, we had Bill's brain surgery, the German abdominal surgery for Mike and while we were in Prague we had surgery for Michael's hernia?..that was a heck of a lot more challenging??this tour went pretty breezy, it was pretty easy going.
Eleven days prior to their appearance at Slane Castle in 1995, bassist Mike Mills had undergone abdominal surgery in Germany.
Slane was a special show in '95 but that was our first show back from Mike's (Mills) injury??that was a good show, but everybody was on pins and needles.. are we going to make it through the show.
The Up Tour commenced in Lisbon on The 17th June and finished on the 11th September in Boston. Within three months the range of venues that they played included Europe's biggest festivals such as Glastonbury and Werchter as well as the more intimate surroundings such as Vienna State Opera House and a sports hall in Koper, Slovenia.
It was a little bit scaled down, a little more do-able (than 1995)?.I guess we just got lucky this time, we got some good breaks , everybody stayed healthy, the band played very well?the crowds were very enthusiastic and when the crowds like the show it really makes the band play better, it's one of those things that you can tell from the first couple of songs that it's going to be a great night.
Since early '99 the rumour mill had been spinning as to whether REM would be headlining this year's Glastonbury festival.
It's about timing, Glastonbury always comes at a certain time of the year, and if you're not touring it's very rare that the band will do what's called a one-off when their not on tour, where we get everything together, fly somewhere do the show and come back, it's difficult logistically and musically?we arranged the tour to be around Glastonbury?.Montreux and Vienna jazz festivals and the Werchter festival in Belgium. Put those as you're anchor dates and schedule everything around that?.that's the reason we did Glastonbury - it was finally the right timing, they had come to us before and we considered doing Glastonbury, but it was never the right timing in terms of being on tour.
REM's blistering set at Glastonbury on a warm June night was heralded by many as the standout act at this year's festival (along with Pavement and Hole). Georgia's finest certainly enjoyed it.
We had a great time there?all these other bands were playing, there must have been about a hundred bands, six or seven stages, we all wanted to stay for four days, but unfortunately we had a show to do the night after.." (in Oberhausen Germany).
REM's first Irish appearance was in Dublin in 1984 at the SFX, since then they played at the same venue in 1988, before 80,000 at Slane Castle in 1995 and on the 16th July at Lansdowne Rd. We got to Dublin the day before, if we can we try to schedule a day off in Dublin? our producer Pat McCarthy is from Dublin and his family is there?.plus we've made a lot of friends there over the years..it's just always been a real home away from home for REM"
Pat McCarthy who now lives in Athens, Georgia has produced REM's highly acclaimed masterpiece Up ('98)
We went to the show fairly early. The opening band was Paddy Casey who is managed by some good friends of mine, some principal U2 people (Paul McGuinness)..he is excellent, certainly a great part of the show, really great music and he's a really nice kid?.he seems sharp. Divine Comedy who we were told are really big in Dublin that they would do their own show for several thousand people, they turned in a great set..the thing I remember about the show, the kids during the second song?.the kids were bopping up and down like pocho dancing all the way beyond the soundboard?it was that way...that was remarkable that meant the crowd was really into it, it was a huge stadium, it was packed. The band are not crazy about playing while it's still daylight but if you are going to play in Europe during the Summer you're going to play a lot while it's still daylight. By the end of the show?it was really the encore that was very special?? I've been telling people it was in the top five best shows of the whole tour.
During the '95 Tour REM played in Sicily and Tel Aviv as part of a "bonus week" where they made the effort to play in countries that would not normally be considered while planning the tour (for geographical and production reasons).
We always look at two or three things at the very end to see would that take us somewhere that we've never been before?..they would be difficult to get to otherwise, it's not really reasonable in the sense of being able to write into a regular tour???this time we decided to do Athens, Greece, 'cause there's always been a lot of demand for REM down there, but it's hard to get down there, you have to kind off figure out what else to do around Athens? so the agencies went out and looked at different parts of world, different promoters and we considered various places and Slovenia was the place we decided to go, it's close to Italy, close to Austria, in the Balkans, it's close to Croatia and it was a great show, we ended up having a wonderful time there. Production wise it means flying everything, you have to fly as much as you can and it was a lot of fun, we quite enjoyed it.
The catalogue of acts that have supported REM on previous tours could headline any summer festival; Radiohead, Grant Lee Buffalo, Sonic Youth, Crowded House, 10,000 Maniacs, Plant and Page to name a few. During the Up Tour, REM's support acts were as intriguing as the headliners themselves and one in particular, Patti Smith, has been an idol of Stipe since he first heard her screaming through "Gloria" in 1975.
It was cool for the band, they played Vienna and then together in Paris and we played a show with her as well in Saratoga, New York...we loved playing with Mercury Rev, they were the Radiohead of this year, they were a band that we didn't know much about, we heard they had a great reputation, they came on the road and they were tremendous live?and let's see..Wilco played a bunch of shows with us and Catatonia did a few shows with us?and the Bambi Molesters was an instrumental surf-band that played with us in Slovenia.
The biggest contrast between the previous two tours, was how deep the band delved into the back catalogue during the Up Tour. At each show the band thrilled audiences by performing plenty of material from the vintage "IRS years" (IRS was the label REM were singed to before signing to Warner's in 1988). The sight of Michael Stipe punching out The One I Love and Cuyahoga (of Life's Rich Pageant, 1986) at Lansdowne Rd and the vintage Pilgrimage (Murmur, 1983) at Stirling Castle, Scotland will leave a deep impression on those not old enough to have seen REM perform this early material when they first came to these shores in the early eighties. The inclusion of older material in the REM sets may be partly credited to some of the new musicians which have become part of the band on the tour; Ken Stringfellow (Posies), Joey Waronker (Beck) and Scott McCaughey (Young Fresh Fellows). In particular the younger members such as Ken and Joey have been listening to REM since their teenage years.
I never really worry about the setlist with the band, the band always set the setlist themselves, sometimes they just throw in the songs themselves and part of it may been that the extra musicians were such big fans growing up, you know, these guys Joey and Ken are a bit younger than the guys in REM and they kind of grew up when they were in Highschool listening to some of the stuff that comes out in the radio and listened to some of the early tracks form REM. So yeah it may have been that those guys have made suggestions or started playing things during the soundcheck, the guys just try to keep it different every night, they're certainly going to play Losing my Religion, Man on the Moon and songs from the new album, but then those grey areas of the set which can change, they really try to mix it up. They were doing things at the end of the tour which they hadn't done at the beginning like Life and How to Live it and Sitting Still, that they didn't do at all at the end?. they played Radio Free Europe at the last show in Boston". (oh the lucky sods!).
At this point Bertis asks The Apologist how old he was in '84. "Seven" The Apologist confesses. "That's great!" laughs Bertis.

After eighteen years founder/member and friend, drummer Bill Berry announced his retirement from REM. At the Chastain Park show in Atlanta, Bill appeared on stage during the band's set.
It was very very nice, very emotional, very real. Nobody planned it all, it was very spontaneous, a very neat thing".
Michael Stipe commented on Bill's departure; "a three-legged dog is still a dog, it just has to learn to walk differently". The three-legged dog maybe REM, but thankfully the person holding the lead is Bertis Downs!
Bertis Downs first saw REM perform at the 11.11 Koffee Klub in Athens, Georgia on the 19th April 1980. Nineteen years later REM have accelerated from college rock icons to global status as they venture into the next millennium on the back of the beautiful and experimental Up and scoring the soundtrack to film based upon the life of a certain Mr. Andy Kaufmann; "Man on the Moon", as well as a highly successful tour with a more than animated Michael Stipe (he broke more microphone stands than Iggy Pop!). In this period Bertis Downs has acted as REM's manager and legal advisor.

The Apologist